Low-carbon innovations have seen their annual growth rate slow since 2017, according to the IEA's latest report on the subject. This trend contradicts recent announcements aimed at strengthening public policies in support of theParis Agreement. A look back at the Patents and the Energy Transition report from April 2021, highlighting a new geopolitics of energy innovation.
Insufficient growth in low-carbon innovations
TheInternational Energy Agency 's (IEA) Patents and the Energy Transition report on low-carbon innovations provides an indispensable overview of the number of patents filed in the energy sector. In this way, it enables us to define long-term trends in the development of low-carbon technologies. Between 2000 and 2013, the number of low-carbon patents rose by an average of 12.5% a year. This growth reflects the take-off of mature technologies such as solar andwind power over this period.
Conversely, innovations have seen their annual growth rate slow since 2017. These rates stand at 3.3%, putting an end to a three-year decline between 2014 and 2016. One of the keys to understanding this slowdown lies in the significant drop in oil prices since 2014.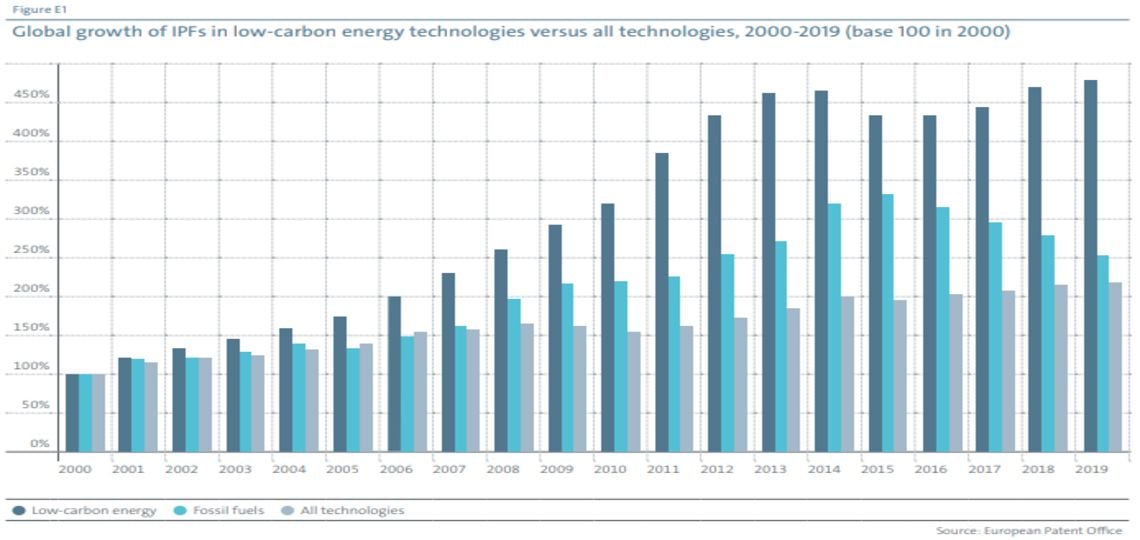 An insufficient increase for the Paris Agreement
The slowdown in the number of innovations strongly contradicts recent announcements aimed at achieving the objectives of theParis Agreement. According to the report, the current number of low-carbon patents is not sufficient to reduce emissions sufficiently in the future. Nearly 35% of cumulative carbon budget emissions would therefore not be covered by innovations.
In other words, it's in the world's interest to innovate more in the coming years to limit the growth of emissions. Many key technologies are still in the demonstration phase and have not yet acquired the status of innovation. Innovation is the commercial application of an invention, and a patent is simply the legal protection linked to this innovation. In fact, many of the technologies needed to achieve carbon neutrality are still a long way from being market-ready.
A gradual evolution with a decline in innovation in renewable energies
Beyond these quantitative aspects, the IEA report looks at the very evolution of low-carbon innovations. Since 2017, we have seen a decline in patents filed for renewable energies (RE). This reflects a certain maturity in the market, now that public subsidies for this sector are declining.
If the figures are anything to go by,solar energy is by far the most important area of innovation in renewable energies. Innovation is spurred by the development of new photovoltaic cells such as perovskite, which compete with polysilicon cells. Conversely, thewind power sector is rather disappointing when it comes to innovative patents, with three times fewer than solar power. Nuclear power, meanwhile, has been relatively marginalized, reflecting a lack of dynamism since the Fukushima accident.
The dominance of electric vehicles (EVs)
While patents for renewable energies may be on the decline, innovations in electric vehicles are booming. The number of patents in this field has thus increased by 21% since 2017. This confirms the boom in this market, stimulated by the impressive drop in battery costs over the last ten years.
Above all, these figures reflect the clear advantage of electric vehicles over hydrogen-powered ones. The latter suffer from having three times fewer patents than their competitors. Hydrogen could nonetheless dominate the stationary electricity storage segment, if these patent statistics are anything to go by. Overall, the decline of renewable energies and the rise of EVs in innovation could transform the landscape of low-carbon technologies.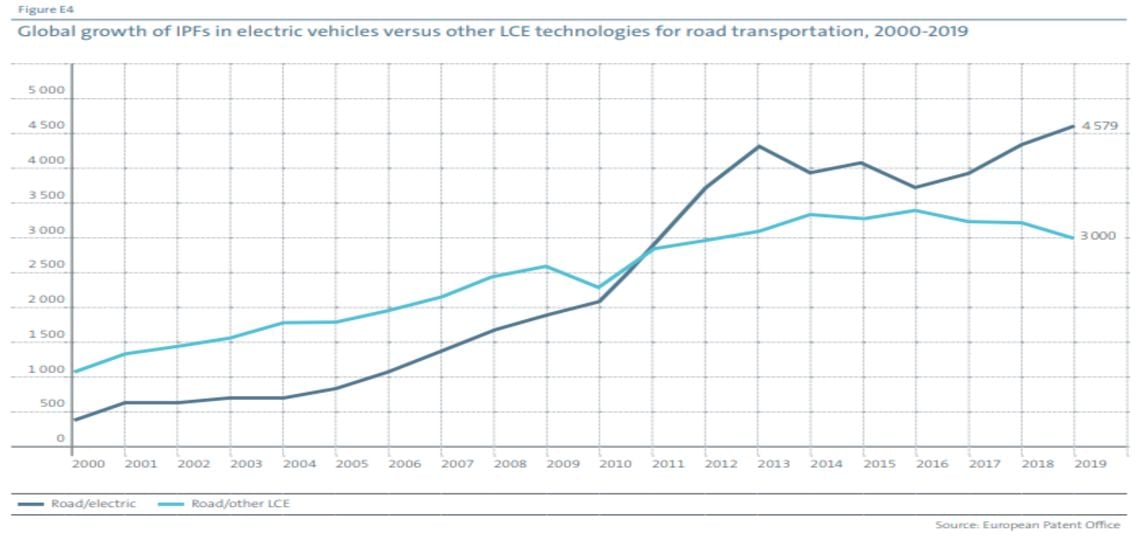 A new geopolitics of low-carbon innovation
This transformation of low-carbon innovations will have a major impact on the geographical distribution of patents. A patent protects an innovation, and therefore a technology, for up to 20 years. This gives a de facto competitive advantage to both the patent applicant and the inventor's country. Indeed, capturing emerging technologies is a source of job creation in a global economy that is heavily dependent on technology.
Patents are also a tool for technological catch-up for emerging countries such as China. In particular, the latter is accused of forcing Western companies to transfer technology in order to gain access to its market. This was particularly the case in solar andonshore wind power, now largely dominated by Chinese players.
Europe dominates in terms of number of innovations
Nevertheless, the evolution of low-carbon innovations since 2017 calls into question China's competitive advantage. According to the IEA report, Beijing leads only in patents related to new information technologies. It even lags far behind Korea in electric vehicle battery technology.
On the other hand, Europe is very well placed when it comes to low-carbon patents. The region is three times more innovative than China in these technologies. It is a leader inoffshore wind, geothermal,hydroelectric and marine energy technologies. It should be noted, however, that China, along with Korea, is the only region to have seen a growth in innovations.
China remains No. 1 in technological innovation
In other words, China is now the main growth driver for low-carbon innovations worldwide. This catch-up reflects a real push by the Chinese government towards R&D segments in low-carbon technologies. Since the announcement of the Made in China 2025 plan, Beijing has been keen to make its mark in these energy transition technologies. It's up to Europe to maintain its competitive edge in a context of carbon neutrality by 2050.