Carbon neutrality is now a global objective. Countries are trying to reduce their greenhouse gas emissions in order to combat global warming. The aim is to ensure that global warming remains at 2°C by 2100, as set out in the Paris agreements.
Carbon neutrality must be achieved within the next few years, or it will be too late
!
Countries are reducing CO2 levels to help prevent runaway climate change and ensure that global warming remains "well below" 2°C by 2100, as set out in the 2015 Paris Agreement.
Bhutan in South Asia and Suriname in South America are the only countries that already absorb more greenhouse gases than they emit.
In October 2018, the United Nations Intergovernmental Panel on Climate Change (IPCC) stated that to have a 50% chance of containing global warming, global emissions must reach net zero by 2050.
In February 2020, an analysis by the Energy and Climate Intelligence Unit (ECIU), a London-based think tank, showed that over 3§ billion euros, or around 49% of annual global GDP, is generated by countries, regions and cities with an actual or planned carbon neutrality target.
On releasing the data, ECIU Director Richard Black said it was "extraordinary that, just 18 months after the IPCC report, countries, regions and cities representing almost half the world's GDP have set themselves compatible targets".
"The majority of these targets are just targets, but they still show how quickly policymakers are grasping the science and, in the case of cities and regions, deciding to act themselves when their national governments won't," he added.
Which countries have a carbon-neutral target that has been or is about to be legislated?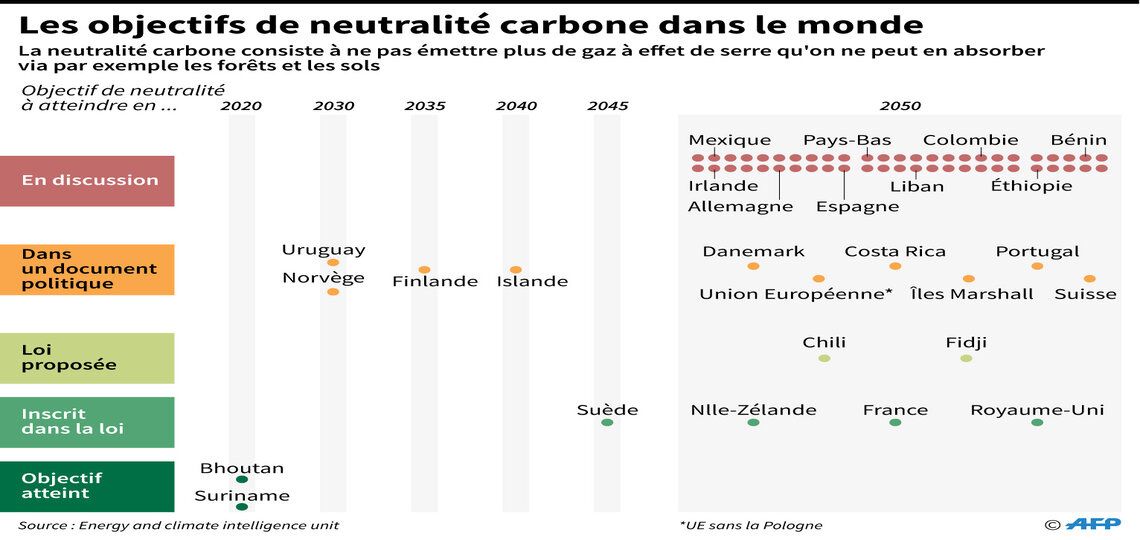 Sweden aims for carbon neutrality by 2045
In June 2017, Sweden committed to achieving carbon neutrality by 2045. In fact, it was the first country to legislate to ensure that it was ahead of the Paris Agreement target.
It plans to reduce its absolute emissions by 85% compared with 1990 levels. The remaining 15% must be eradicated by investing in projects that help reduce pollution in Sweden and elsewhere in the world.
The country has spent several years decarbonizing its energy sector. Indeed, it has increased its nuclear fleet and is investing in hydroelectric power sources. In addition, a carbon tax was imposed in the 1990s to support a shift away from fossil fuels.
Swedish climate activist Greta Thunberg has gained international recognition in recent years after delivering numerous speeches and leading high-profile demonstrations calling for increased action to combat climate change.
The UK gives itself until 2050 to meet its targets
Former Prime Minister Theresa May signed into law the goal of achieving carbon neutrality by 2050 in June 2019.
In doing so, the UK has become the first G7 country to commit to tackling climate change on such a scale. Indeed, it builds on its previous target of reducing emissions by 80% over the next three decades.
As a result of these efforts, the UK's carbon emissions have fallen by 29%. They have reached 354 million tonnes over the last ten years.
However, the Climate Change Commission (CCC), estimates that it will not meet its next two climate targets. Progress in reducing emissions is set to slow over the next few years.
France looks to 2050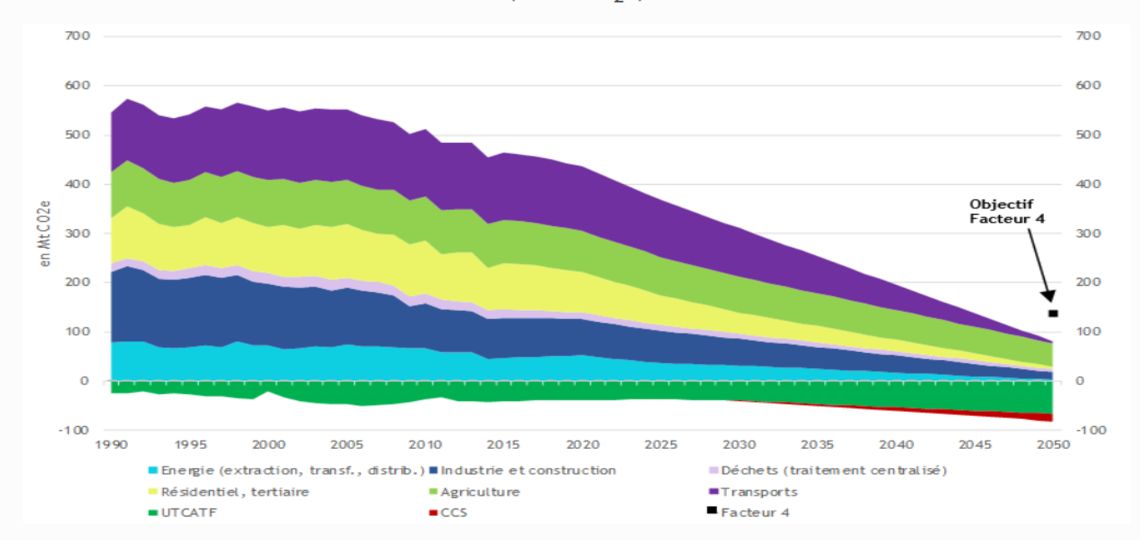 Shortly after the UK announced its climate change ambitions, France also announced, in June 2019, legislation along these lines by 2050. Its objective is to reduce fossil fuel consumption by 30% to 40% by 2030.
France is a country heavily dependent on nuclear energy. But it is looking to step up its development of low-carbon sources and renewable hydrogen. All this while striving to phase out coal-fired power plants by 2022.
Measures are being taken to improve around 7.2 million poorly insulated households in the country. In fact, the housing sector accounts for around 45% of its electricity consumption and 25% of its carbon emissions.
Denmark plans to be carbon neutral by 2050
The Danish government has committed itself by law to achieving carbon neutrality by 2050 in June 2019.
The government wants to set binding decarbonization targets. The aim is also to reinforce its 2030 ambition to reduce emissions by 40% below 1990 levels, initially to 70%.
Figures published by Denmark's state-owned Energinet show that 47% of the country's energy was generated solely from wind power in 2019.
This renewable energy is a key component of the country's decarbonization plans. It aims to ensure that its electricity sector is fossil fuel-free by 2030.
New Zealand aims to meet its targets by 2050
New Zealand passed legislation in November 2019 to achieve carbon neutrality by 2050.
It claims to be well placed to meet the target, with 80% of the country's electricity coming from renewables. The country aims to phase out oil and gas by 2035.
However, the New Zealand government's proposal is biased. In fact, it does not include achieving carbon neutrality on methane emissions.
Agriculture accounts for almost half of New Zealand's greenhouse gas emissions. While methane emissions from animals account for around a third of total emissions.
The country has proposed to reduce these emissions by 10% below 2017 levels by 2030, then by 24% to 47% by 2050.
Germany legislates for carbon neutrality and aims to achieve it by 2050
Germany's first major climate law comes into force in December 2019. It details sector-specific annual emissions budgets for the next decade. It also establishes a commission of experts.
This was backed by a package of measures including carbon pricing for transport and buildings, a controversial coal phase-out and support for electric vehicles. The introduction to the law states that Germany will "pursue" carbon neutrality by 2050.
Other countries are adopting strategic positions on carbon neutrality without enacting legislation.
Canada sets its sights on 2050
Justin Trudeau has won a second term as prime minister in October 2019, on a platform focused on climate action. He promised to set a net zero emissions target, with legally binding five-year carbon budgets.
With his Liberal Party lacking a majority in Parliament, Trudeau will have to negotiate deals with the smaller parties to pass this legislation.
Trudeau pushed through a carbon tax while defending controversial oil pipelines. He continues to face pressure from left-wing and green parties to block pipelines and oil-producing provinces.
China's commitment to the Paris Accords dates back to 2060.
China, the world's largest emitter, announced its ambition to become carbon neutral by 2060 in September 2020, without taking any concrete action.
President Xi Jinping has declared that his country will seek to cap its emissions "before 2030". It wants to put in place "more vigorous policies" to drive forward the nationally determined contributions (NDCs) set out in the Paris Agreements.
This is the first time China has publicly committed to a long-term goal of carbon neutrality. This marks an important diplomatic turning point in the fight against climate change.
According to analysis by British think-tank Carbon Brief, the release of around 215 billion tonnes of CO2 could be avoided over the next four decades if China's ambition is implemented effectively.
While the country may be the world's biggest coal burner and the biggest market for fossil fuels, it is also the world's leading renewable energy manufacturer and the world's biggest investor in clean energy. This makes its commitment to the fight against climate change all the more important.
Japan is also committed to this fight and has set targets to be extinguished by 2050.
Japan committed to achieving carbon neutrality by 2050 in October 2020.
The country's commitment is significant, as it is the fifth largest emitter of carbon emissions in the world. It will require a major strategic shift in the country's energy production away from coal.
Previously, Japan had targeted an 80% reduction in greenhouse gas emissions by 2050, with carbon neutrality to be achieved "as soon as possible" in the second half of the century.
Coal, gas and oil currently dominate the country's energy mix. Reaching the target by 2050 will require significant investment in renewable energies, as well as a reduction in the size of its coal fleet.
South Korea sets its sights on 2050
Two days after Japan's commitment, South Korean President Moon Jae-in pledged that his country would also achieve carbon neutrality by 2050 in a speech to the National Assembly in October 2020.
He declared that the East Asian country, which relies heavily on fossil fuels to power its electricity grid, would end its dependence on coal. He would replace it with renewable energies as part of the Green New Deal announced in July 2020.
The European Union hopes to reach its targets before the middle of the 21st century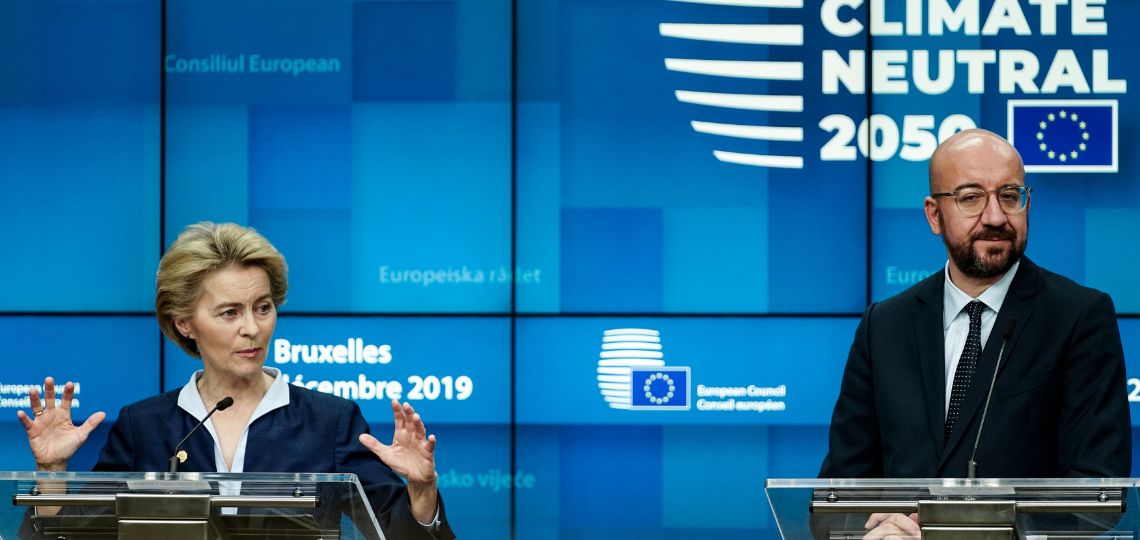 The European Commission is talking about the overall goal of carbon neutrality by 2050, as part of a "green deal" to be published in December 2019. It was approved by the European Council of national leaders the same month. Poland was the only dissenting voice, refusing to commit to its implementation. The long-term strategy was presented to the UN.
The 2015 Paris Agreement set a global goal of achieving carbon neutrality in the second half of the century.
More and more governments are translating this into a national strategy, setting out visions of a carbon-free future. Is it enough? Of course not. But it's becoming the benchmark for leadership on the world stage.
Currently, only Bhutan and Suriname are negative in terms of greenhouse gas emissions. Bhutan's example is a source of hope for the most polluting countries. However, it should be noted that the task was much easier for this country with a low-income population of less than one million. Finally, the presence on the international scene of "climate sceptics" makes the task all the more complicated, especially when this scepticism is expressed by the leader of the world's leading power. The election of Joe Biden as a Democrat may well herald a new era in the United States' commitment to the fight against climate change.