Oil has been at the heart of international relations and geopolitical tensions, such as the invasion of Kuwait in 1990, since its emergence in the XIXᵉ century. Controlling production and marketing is an issue of international power. Indeed, oil is the world's leading energy source, accounting for 31.6% in 2018. This energy, used for fuel, electricity, factories, fertilizers and plastics, is omnipresent in our society.
While global reserves are increasing every year, with 244.6 Gt in 2019 according to BP, consumption is falling. The emergence of renewable energies is tending to reduce the use of fossil fuels. Oil accounted for 11,377 million tonnes of CO2 in 2017.
Venezuela as world leader
With 300 billion barrels of proven reserves, or 17.5% of world reserves, Venezuela has the world's largest oil reserves. The latter is made up of several oil sands deposits, such as the Orinoco, which are difficult and costly to exploit. The country acquired this position in 2011, after overtaking Saudi Arabia. A founding member of OPEC, Venezuela operates this business through state-owned Petroleos.
Saudi Arabia's ephemeral downgrading
While the country was the world benchmark in terms of oil reserves for several decades, it has lost its leading position to Venezuela. Saudi Arabia currently has 269 billion barrels, or a fifth of the world's reserves. The country could, however, regain its top spot. The state-owned audi Arabian Oil Company is expected to increase its exploration activities in the near future, in order to surpass Venezuela's oil reserves.
Numerous Canadian oil sands deposits
In third place, Canada has 171 billion barrels. This reserve is 95% dependent on oil sands deposits in the province of Alberta, which are costly to exploit and have a significant environmental impact. These sites are a key factor in the growth of our liquid fuel supply. These resources are exploited by Petro-Canda, whose main shareholder is Suncor Energie Inc. and other Canadian subsidiaries of multinational companies.
The Middle East at the heart of OPEC
By monopolizing the fourth, fifth and sixth places, Iran, Iraq and Kuwait are important OPEC members. Each has reserves of 158 trillion barrels, 143 trillion barrels and 104 trillion barrels respectively.
Countries plagued by political unrest
Iran and Iraq, however, have seen their oil production and exploration slow due to the sanctions imposed by Western countries. Not least because of Iran's nuclear activities, and Iraq's Gulf wars. What's more, both countries have experienced political turmoil and war. However, both countries have numerous sites, unlike Kuwait, where around 70% are located in the Burgan field, the world's second-largest oilfield.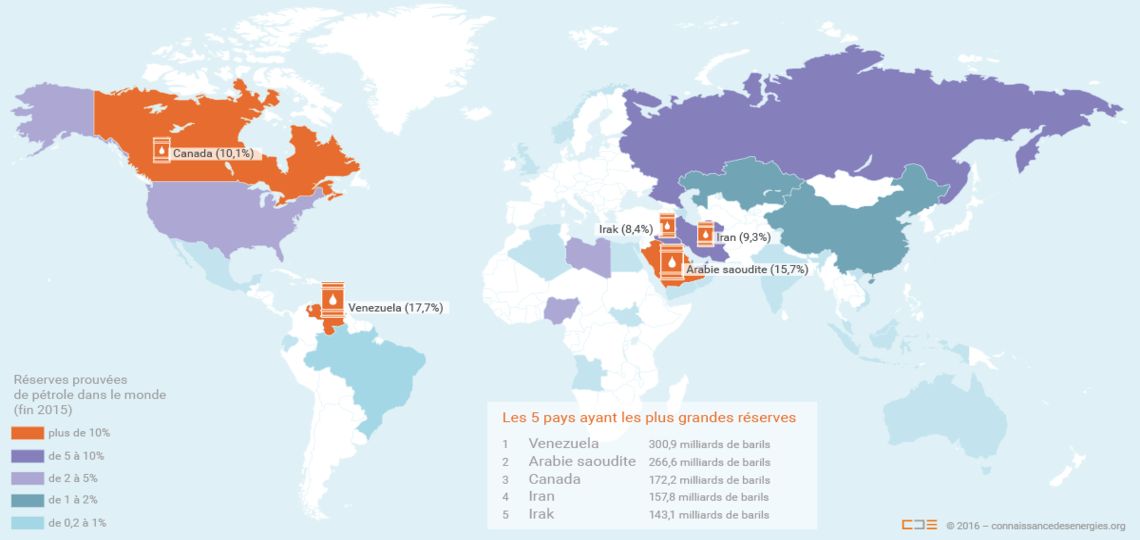 Oil production by state-owned companies
Oil reserves and operations in Iraq, Iran and Kuwait are managed by state-run national companies. These are the National Iranian Oil Company, the National Iraq Oil Company and the Kuwait Oil Company.
Siberian reserve wins seventh place
With its oil reserves in the Siberian plains, Russia has 80 billion barrels of reserves. Thanks to the growing exploration of Arctic waters and ice, the country's ranking is set to rise. Lukoil is Russia's largest state-owned oil producer and operator.
The third largest in the Middle East in the United Arab Emirates
By owning the Zakum field, the United Arab Emirates has 98 billion barrels of oil reserves, guaranteeing it eighth place in the ranking. Over 90% of reserves are held by Abu Dhabi, followed by Dubai and Sharjah. The country operates these sites through state-owned Saudi Aramco.
Libya and Nigeria, African leaders
Ninth and tenth in terms of hydrocarbon reserves, Libya has the largest oil reserves in Africa, and Nigeria is Africa's biggest oil producer. Each owns 48 billion barrels and 37 billion barrels. However, these two countries still have plenty of potential for exploration.
While oil production in Niger is managed by the state-owned Nigerian National Petroleum Corporation, Libyan production is managed by private companies. They are ENI, with its main shareholder Cassa Depositi e Prestiti, Total with its main shareholder BlackRock and the Russian state-owned company Rosneft.